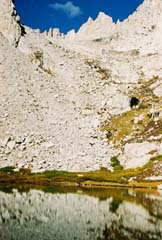 Repeating our venture in 2002, my dad and I went off to climb Mt. Whitney at the end of September. Amazingly, though only two weeks later than last time, the weather on this trip was completely different. At night, it got down into the teens, and during the day it got warm, but never uncomfortably so.
We drove over throughYosemite on Thursday, leaving the S.F. bay area at noon. It was a long drive even without traffic, going east via 580 to Manteca, then on 120 all the way through Yosemite NP and over the Tioga Pass (highest road pass in California). From the other side, it was a solid 100 miles on 395 to Lone Pine where we spent the night in a hotel. Next morning we picked up a permit (had no reservation) and around 10, set off up the trail with packs.
For Friday, we did about 6 miles/3,700 ft, going up from Whitney Portal all the way to Trail Camp (elev. 12,000) where we pitched tent. It was pretty cool, and when the sun set, temperature went all the way down. Spent a somewhat uncomfortable night trying to stay warm, with some success.
We started up the trail the next day (Saturday) at 8 with only a day pack (left everything else behind). Crossed over the Trail Crest at 10AM, and finally reached the top of Mt. Whitney at 11:15, just as clouds from the east had begun to envelope the peak. The return to Trail Camp was marked with changing weather, culminating in a respectable snowstorm that lasted almost an hour. Night was also colder, with occasional flurries.
Sunday morning we decamped, loaded up the packs and headed down. Had a quick breakfast around 10, and at half past 12 reached the Whitney Portal. Drive back was quite long. Took 395 all the way north to Bridgeport this time, and took 108 over the Sonora Pass west. The rest of the route was the reverse of going, and arrived back at the dorms not long before 11PM.
Driving distance was 850 miles round-trip, with 23 miles of hiking, and 6,100 feet up and down on foot.
Photos are from a Nikon FM 2A, with normal lens, ASA 400 film, scanned by the developer (Longs Drugs).