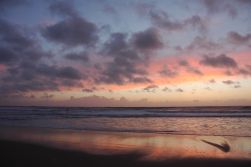 I'm not really a photographer, but I do appreciate good scenery. Here are some of the nicer pictures of places I've had the occasion to visit. There's a clear bias toward nature, but then I'd say that nature is where most of the good scenery is.
2006
Stanford Campus, January Random night shots.
Beaches, January Some color from early January near home.
2005
Princeton Harbor, December The sunset after the storm, from Half Moon Bay.
Los Angeles, November A trip to Los Angeles for Thanksgiving, with somewhat varied scenery.
Bay Area, October An evening by the San Francisco bay, around sunset.
Alps, August A large collection of photos of our journey from Chamonix to Zermatt. There's a corresponding trip log too.
Paris, August A compendium of photos from the tour of Paris my uncle took my father and I on.
Burgundy, July A long weekend down in the heart of France's wine country.
Fireworks, July 14th Celebrating the French revolution with fireworks by the Eiffel Tower.
Val d'Oise, July Photos from visiting miscellaneous towns in the Val d'Oise.
Pyrenees, July Another weekend in the Pyrenees exploring. Less snow this time, but the same weather, and some very panoramic visits.
Paris, June Collection of photos of Paris taken at night.
Honfleur, June Looking for nice weather for an excursion, and found some, at the port of Honfleur in Normandy.
Villarceaux, June For a very hot Sunday, one must find shade. And greenery. And water. We found all the above at the chateau of Villarceaux.
Reims, June A cathedral fit for a king. Or 34 as the case is, since that's how many were crowned at the cathedral we visited in Reims.
Sacre Coeur, June A morning trip to the magnificent church built on the hill where the last of the communards surrendered in 1871.
Chartres, June You can't spend an entire quarter in France without visiting a gothic cathedral. So I opted for one the best, at Chartres, with a detour to Versailles on the return.
Pyrenees, May A weekend of backpacking alone in the Pyrenees, where I made a fifty mile circuit through some amazing mountains. I hadn't counted on the several meters of snow still on the higher elevations though.
Normandy, May A one-afternoon study break to Normandy with my uncle took us to Rouen, Dieppe, and the sea, with a fair bit of rain at various points along the way.
Chamonix, May While in Paris, spent an extended weekend near Europe's tallest mountain where I did a combination of hiking and sightseeing. I understand now why it's such a famous resort.
Tours, April Our Stanford-organized visit to the Loire Valley took us to stunning chateaus and gardens.
Paris, April A few photos from a short walk by the Seine in Paris on the first nice day of my stay.
Hergiswil, April On the way from Geneva to Paris, I stopped near Lucerne for a day to visit a cousin. In the process had some exceptional views of the lake and its surroundings.
Nyon, March A couple of photos from a beautiful day near Lake Geneva.
Yosemite, March After 6 months of no serious hiking, it was back for a brief 2 day trip to renew old acquaintances. The big acquaintance was snow, as well as a digital camera. Which makes the photo-processing easier, but not much else.
2004
Mt. Whitney, September Two times to Whitney in the last 2 years, although the two differ in almost every possible way. While blue skies were scarce, good views were certainly not.
Montara Mountain, September A couple of photos from down the coast from my house.
Yosemite, June My pre-summer-school trip to Yosemite to tackle Half Dome met with success, not to mention a helicopter, a baby bear, and terrific weather.
Montara Mountain, June More photos from Montara mountain.
Lassen, June For the beginning of summer, I traveled up to Lassen, and later Lake Tahoe for hiking, pictures, and a break from the grind with dorm friends. While snow made the hiking harder, it certainly didn't hurt the photography.
Yosemite, April While I didn't make it all the way up Half Dome for the dorm's Easter weekend trip, I definitely saw more than I hoped for.
Ventana Wilderness, March A more-or-less spontaneous trip down to Big Sur with a bunch of college friends resulted in a great backpacking excursion, and an eclectic collection of photographs.
2003
Switzerland, August Back to Switzerland for the summer after freshman year. This trip really made my year. Almost a month of hiking, traveling, eating good bread and cheese, and enjoying my idea of the good life. It's a beautiful country. Don't believe me? Look for yourself.
2002
Mt. Whitney, September An impromptu trip to the Sierras right before college began my most ambitious hike to date. 3 days and 5 rolls of film later, my dad and I returned. Maybe lugging two 4 pound plus cameras up 6,000 vertical ft. wasn't the smartest possible move, but the results were hard to argue with.
Lassen, July 2002 A quick 4th of July camping trip to Lassen Volcanic National Park gave me the chance to photograph quite a variety of scenery.
2001
Switzerland, August With my shiny new SLR camera, not to mention some amazing hikes, I had a great time in Switzerland. Hopefully the pictures indicate as much.
1999
Switzerland, August A one month trip to Switzerland in 1999 gave me many opportunities to hike, and almost as many to take pictures. I'd say that even point-and-shoot cameras can produce good pictures